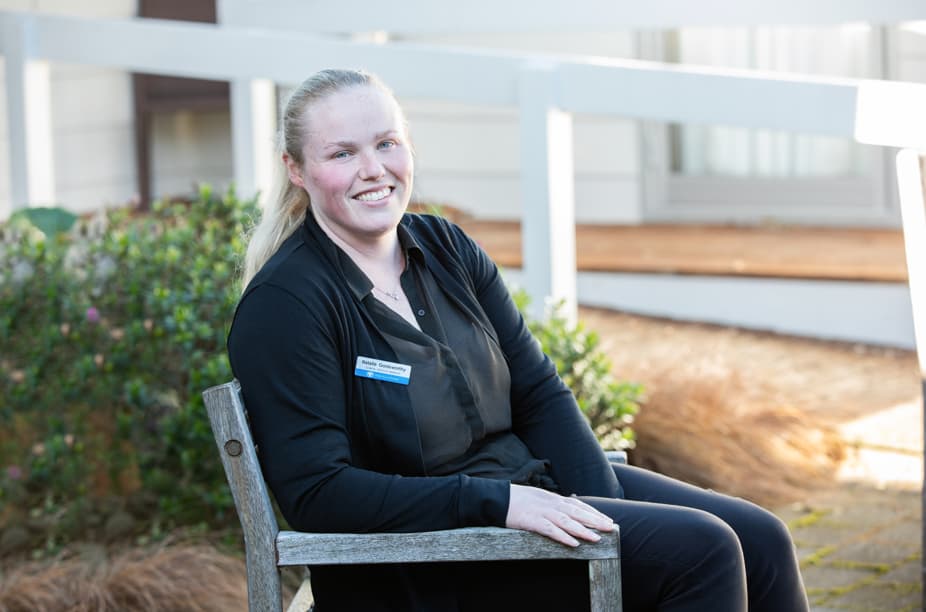 For me, the people here are what have kept me.
​Natalie was a Caregiver in Aged Care for 10 years before qualifying as an RN and joining Riverside Lifecare as a part of her Post Graduate Nurse Entry to Practice in 2015.
She worked on the floor as a Registered Nurse until 2018. Within that time, she did the ECASE training for Riverside and later became the support RN for Heritage lifecare, looking at the quality aspects of ECASE.
In 2019, just 5 years after starting as a new grad she became Clinical Services Manager at Riverside. "My main support and mentor has been Jenna, who was Clinical Manager and is now Manager'" she says. "Her and our Quality Co-Ordinator, Lisa, have always been so incredibly encouraging and supportive."
Natalie says there is very low staff turnover at Riverside. "For me, the people here are what have kept me. I wasn't interested in a career in Aged Care, but the people have kept me here, both the staff and residents... Every day is different, and we are challenged to improve, up our skills and keep things interesting. Lots of problem solving."
"RNs are respected as nurses, not glorified Caregivers and are encouraged to do complex procedures and develop their careers," she says.