An Uncomfortable Truth in NZ and the Impact on Our People and Aged Care
We pride ourselves as Kiwis as being inclusive, generous and providing opportunities for talent. Our uncomfortable truth is that for a sector of our hard working team this is all too often untrue.
New Zealand aged care providers are facing head on in to the eye of a storm. We have a chronic shortage of talent and of particular relevance to us right now is that of Registered Nurses but also Caregivers and Diversional Therapists. It is not a temporary issue in that once we get a grip on our borders it will be resolved. Our population is aging and the need for care is increasing as the Baby Boomer population peaks. We need both immediate action and long term sustained support to provide the care of our aged population.
Sadly, our Immigration policy and processes do not appear to be supporting the ease to recruit from overseas. The process is time consuming and includes many hurdles and uncertainty for interested candidates, and for those who do finally enter NZ obtaining temporary visas to live here. Even worse, visa holders here are advising those looking to move to NZ to consider alternative countries like Canada instead who have less stressful processes.
How does this impact individual visa holders? We have surveyed our visa holders and approximately 1/3 are separated from their families. There is a group of hard working, generous people caring for our older people who are separated from their own children, husbands, wives, partners. That's one problem created with border closures where an entire group of people entered NZ in good faith expecting their families to be able to join them.
Can you imagine how it would feel flying to another country alone and being parted from your children and husband/wife/partner to pursue a better life? Can you imagine the unforeseen heartache of having your expectation that your family could soon join you but then getting lost in the system not knowing if or when this will happen? Can you imagine the loneliness of this kind of separation and the toll it takes on mental and physical health – your only contact being by Skype or Facetime? To add insult to injury people are not easily afforded health care like any other tax payer in NZ, or if they are able to access it, it comes at a financial price and counts against them in residency applications.
So what are we doing about it? We are working with the NZ Aged Care Association who are already actively working to get traction. We invite the government to work with the sector to develop policy and practices that encourage attraction to NZ and to ease the stress associated within the current system. We invite you to spread the word to help educate Kiwis and add support. We will be focussing on one person a week on our Facebook and LinkedIn pages and would love you to share posts and engage with us. In closing, if you are a resident or family member we hope that this article adds even more appreciation for our hard working visa holders who may be living with the daily heartache of separation from their own loved ones while they look after ours.
Share this post to help us, help our teams be reunited with their loved ones again. #NeedForCare
Here at Heritage Lifecare we are taking a stance for our treasured visa holder employees by sharing individual stories of the impact our current immigration system has on them.
Our country desperately needs these wonderful individuals as we face head on into the eye of workforce talent, especially Registered Nurses but other key support too such as Caregivers and Diversional Therapists. This is not a short term problem. Our aged population needing care is increasing all the time as the baby boomer generation peaks.
Each week, we will be sharing a story from our people. We encourage you to like, comment and share, to help us, help our people to have a voice. They are not a statistic to be ignored but we have an uncomfortable truth we must seek to rectify for our ageing population, their families, our visa holders and their families.
#NeedForCare
*Please note, all names mentioned are a placeholder to preserve the identity of participants. All those impacted will remain anonymous.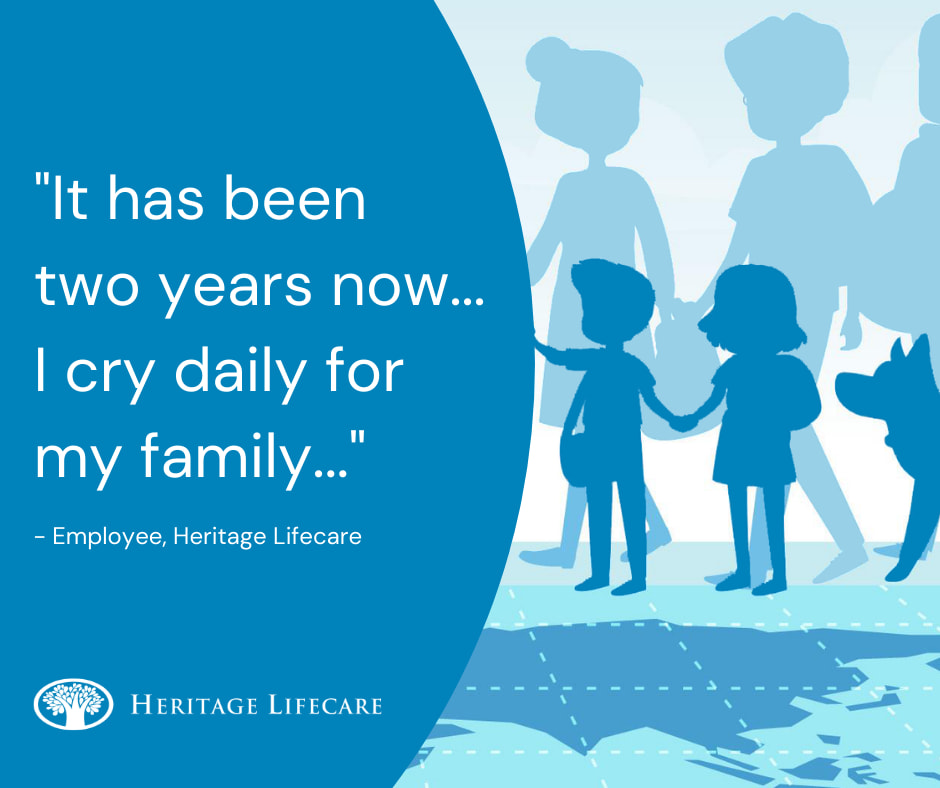 "I feel so alone at the moment. I applied for my family to join me but unfortunately two days before they were due to fly from India the NZ borders closed. It has been two years now since I have physically seen my husband and daughters, now 7 and 4 years old. I cry daily and we all get emotional every time we talk on video calls. I love my job and try to give 100%. I can feel really happy when I'm actually doing my job but when I go home the loneliness takes hold. I miss them so much."
'Mary's' Manager says that she strives every day to uphold our company values managing to have a smile on her face and giving 110% for our residents and colleagues.
Please help us get change by liking and sharing our posts, joining us to be their voice to reunite our people with their families and loved one. #NeedForCare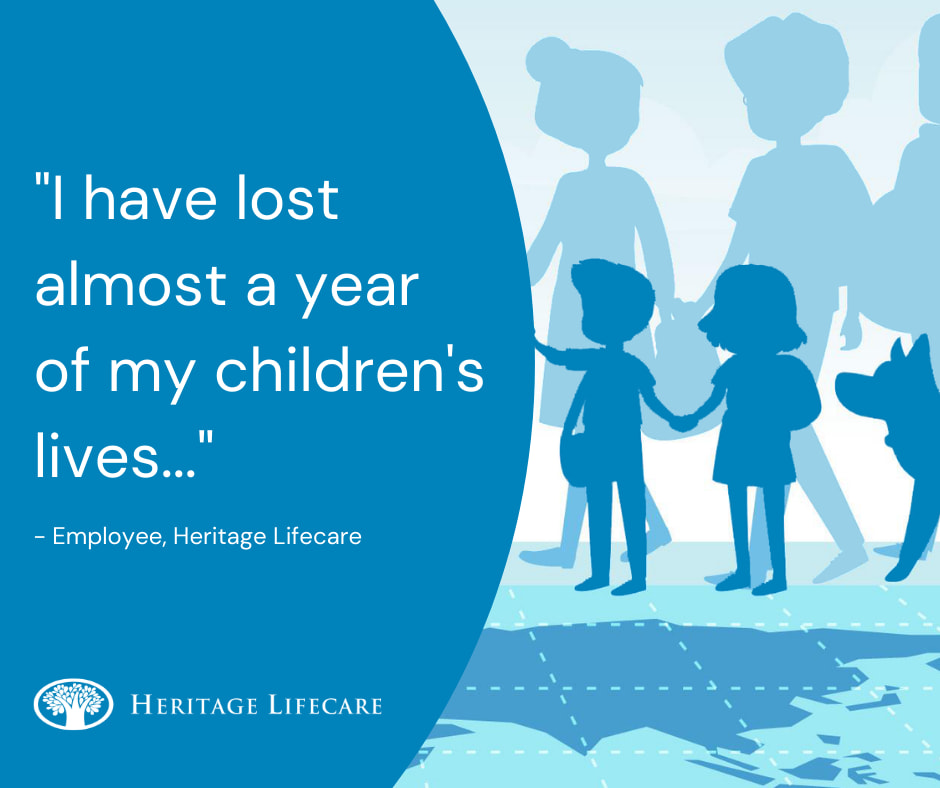 "I came here from India and have been in NZ for 10 months on an essential skills visa. I was unable to bring my husband and children due to quarantine and COVID-19, but I thought they would be able to follow me soon after. I have lost almost a year of my children's lives. They are only 4 and 8 years old. Please help us reunite".
Here at Heritage Lifecare we are taking a stance for our treasured visa holder employees sharing individual stories of the impact our current immigration system has on them. We sincerely ask that you help us by providing support through engaging in the comments and sharing the information far and wide to help us, help our employees be reunited with their loved ones currently overseas.
#NeedForCare
Want To Share Your Story?